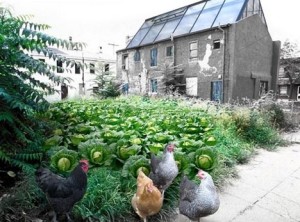 Contrary to popular belief in today's culture farms come in all shapes and sizes. You may be living right next door to a fully operational farm with both animals and vegetation. In "City Farming" we will criss-cross the country finding the most creative and innovative farms across the US to share with the world.
How We Got Started Raising Dairy Goats & Tips for Cold Weather Farming
Raising dairy goats in the city may sound like a strange idea.  But nothing beats fresh, sweet milk and cheese that can only come from backyard goats.  If you want to get a goat, be sure to get plenty of advice from urban dairy farmers beforehand so that you understand how to keep goats and how to get the most out of them. We had the good fortune to meet our mentor goat farmers by happy accident.  Here is how we got started raising dairy goats and some tips for keeping goats warm in winter.
Posted in

Farms, Goats, seasons, Temperature & Light, Water
Tagged

backyard goats, cold weather chickens, cold weather tips, dairy goats, goat coats, goat kids, goats in the city, how to raise goats, keep livestock water from freezing, keeping goats warm, milk goats, miniature goats, supplemental winter feeding, urban farming, urban livestock, winter livestock tips, winter tips, wish we had acres farm
Comments Off

on Raising Dairy Goats at Wish We Had Acres Farm