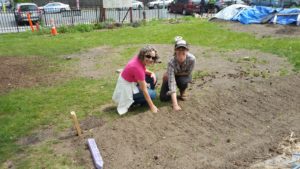 School Gardens Teach Teens and Young Adults to Farm
Interview with Molly, co-manager of The Youth Farm school gardens and teaching farm (Brooklyn, NY)
On a cool April day, one month prior to the peak growing season, Lewis and I visited one NYC's most visionary urban farms, The Youth Farm school gardens located in Brooklyn.  The farm was started in 2010 when the founding Principal of the High School for Public Service in Crown Heights conceived of converting the 50-year-old lawn into an outdoor classroom. To accomplish the task, he partnered with BK Farmyards, a local urban farming organization, to develop farm plans.
According to The Youth Farm website, "Ultimately, the school voted to have the lawn converted into a productive farm, staffed by trained farmers, that would provide the school and surrounding community with opportunities to engage in growing their own food and cooking with it. Since 2011, the farm has thrived as one of NYC's largest urban farm sites, providing training opportunities to youth and adults, increasing options for fresh, affordable produce, and creating a vibrant community space that cultivates radical change from the inside out."
Youth Farm Education and Farm Internships
The school currently provides youth education, as well as leadership programs, farm internships for young adults, tours and workshops, as well as opportunities for community farm volunteers.  It produces food and flowers in the school gardens for a farmer's market, CSA and farm-to-restaurant program.  During our visit, adult interns were at work, preparing for the imminent growing season.  The farm utilizes a number of strategies to extend the growing season, which is relatively short due to persistent cold temperatures in the coastal regions of the Northeastern United States.  Simple box cold frames bordered garden rows and a hoop house stood at one end of the property.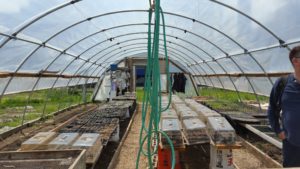 Farm Interns Learn Propagation and Season Extension Techniques
Interns were carefully seeding trays to grow transplants for the farm.  Precision was aided by a detailed log of what was being planted, as well as the use of pelleted seeds.  Pelleting is a treatment that coats small or irregularly shaped seeds with an inert material to make them large and uniform.  The increased size and weight of pelleted seeds makes them easier to separate and plant.  Deliberate placement of seeds with precise spacing makes thinning unnecessary and allows roots to grow unimpeded by competing plants.  Additionally, some pelleted seeds are primed to increase and speed germination rates.  The co-manager of the farm, Molly, explained that pelleted seeds are more expensive than typical seeds.  However, the precision and fast germination that they afford can save a farmer or gardener money in the long run.
Propagation in a Hoop House
Hundreds of healthy plant starts in varying stages of growth soaked up the sun on tables in the farmyard, and still more were enjoying the warmth of the hoop house.  Although I would have loved to have seen the farm during full summer production, the sight of the vast number of green starts offered the promise of a productive future for the farm and the hope of a brighter future for the young farmers.
Visit the The Youth Farm online
Read the full interview with Molly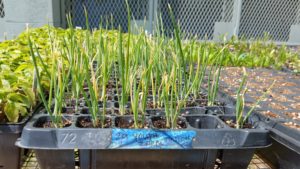 (Molly discussing the school's involvement with the farm.) …So they'll let the student body know like the announcements and posters on the walls.  Is it CSA signup time or is the market about to start?  Are we gonna hire some summer youth?  Time to get your application in.  Did you know it's Earth Day?
Like just stuff like that.  And then they'll table at health fairs.  And we take them to different conferences around the city about food.  Even just like youth led and youth based conferences around environment and food.  So they can kind of learn and meet other kids that are doing similar work across the city, that's the youth leadership goal.
Who Runs the School Gardens and Farm?
We have a third staff member who's not here, but who runs these different youth programs and designs them.  And so Erin and myself are kind of co-managing the farm space.  And we kind of collaborate, and work with to match up whatever the kids are doing in class to what is actually happening out in the field.
How the School Garden Integrates with Classroom Curriculum
So if they're having a lesson in compost, we say okay, bin six is ready to be turned.  Or we don't have any bins ready to be turned, so you have to do compost relay.  And so just figure out ways to create a parallel learning process indoors and outdoors.
Community Farm Volunteers
And then the final thing about the farm is that we community volunteer days.  So you probably just saw our calendar on the front.  Starting in May the first and third Saturday of every month is a volunteer day for the wider New York City community.  Anybody can come, you don't have to schedule it.
You just show up, bring your family. We just do whatever kind of need to be done. And once our market begins, Wednesday afternoons 2: 30 to 6:30 we also open up the farm to volunteers.  Some people come and they buy vegetables but they also want to help weed or take a tour.  You know, do something like that on the farm.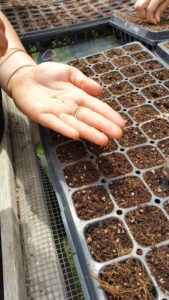 Community Partnerships and Workshops
And this year we have a fun partnership starting up with a medicinal herb apothecary called Sacred Vibes.  And they're going to convert one of our beds into sort of an herb spiral.  And they're gonna be doing workshops I think six different workshops for the public about different medicinal herbs and their uses.  And how to dry them into teas or how to make a tincture, stuff like that.
Very cool.
Yeah, so we definitely look at the farm as actually for different community programs and efforts can kind of share space.  That being said kind of baked into our agreement is just this focus on the school community being a primary community for us.
How the School Garden and Farm are Funded
And in order to do those programs, in order to have money to do this program, we sell vegetables via the CSA.  We sell flowers.  We sell the urban farm training program which these guys pay for.
You have donors as well?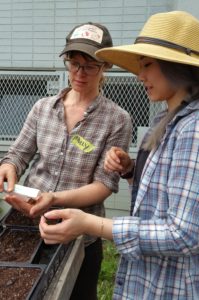 We do have some individual donors.  Not many.  We're about 60% grant funded.  We're about 35% direct sales funded.  So we are self-sustaining in the sense that we bring in 30% of our own budget through sales provided we have a good season, weather wise.  And then the other little chunk is donations that we'll collect at the end of the year or via our website, we have a donate button.  And then other little random things.  We do offer field trips which we offer at a sliding scale to different groups.  So if a title one school is coming out we'll charge them the lowest rate.  If a private school is coming out we'll charge them a higher rate, a public school coming out a middle rate.
Tours and Hands-On Learning at the School Gardens
And we host groups from corporations who are just looking for a tour and some information about urban ag.  On down to like Pre-K or homeschool kids that need to take a trip and do some hands on learning.  And we do have another staff member, Janelle who runs those, what we call immersion field trips. So that's another little sliver of income that comes in for the farm.  Did you guys have any questions just about what we grow or how things are set up, or anything like that?
Soil Protection
What is the burlap on the ground for?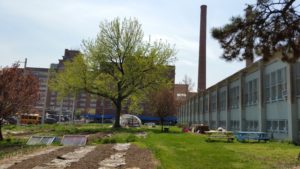 Yeah, so we get this, this is free, dropped off by a local roasting company, have you heard of Stumptown Roasters?  They're out of Portland, but now they're everywhere, at least they're everywhere in New York.  But this is a byproduct for them, so they get coffee beans delivered from all over the world…Those would go into the waste stream here in New York City.  They didn't have people who wanted to take the burlap, because they don't have anything to do with the burlap.
In Phoenix, you go to the thrift store and you pay $50 for a burlap bag like that.  [LAUGH]  I'm serious.  [LAUGH] .

Here we give them away.
Walking Paths
Do you put (the burlap sacks) on the soil to prevent erosion or is that to walk?
We use them for a path.  That's for walking.  So part of our whole biointensive approach is having permanent beds and permanent paths.  And that helps protect the fertility and the loftiness, the aeration.
Right, so it doesn't compact down.
Year after year, yes.  So these are permanent beds that are just worked up a little bit every spring, and maybe we add some compost.  But other than that, we're never walking on the beds.  We're only walking in the pathways.  Or we're wheeling compost down the path or something like that.
Building Soil
So we talk about that as part of kind of the education and learning about how to grow soil as opposed to crops.  Which is sort of our focus.  Is shifting the mindset to what's happening underneath, that's sort of the key to your success.
And they do, they used to disintegrate into the ground, but now I think there's been just so many years of burlap build up that they don't disintegrate quite as well.  So in the fall If we don't have cover crops on a bed and we don't cover crop the whole farm because it's just too labor intensive and too expensive.
And in the spring it's crazy trying to incorporate 60 beds of cover crops.  So we take the burlap that's left and we put it on top of the soil as a way to protect it over the winter [INAUDIBLE].  And then in the spring we're starting to move it back into the path.  Or we start to pull up the stuff that's like a tripping hazard and get rid of it, and start replacing it with new burlap.
Regional Differences and Similarities
Okay, in Phoenix we grow year round.  So we never have a fallow garden bed unless you just do it intentionally.
Yeah, it's different.
But very much the same as far as the urban farming movement that's happening in Phoenix is different in how we do our urban farming but the same motivation.  The same intention, the same heart.
Love it.  It's happening everywhere.
Learn more about school gardens, farm internships and community gardens:
American Community Garden Association