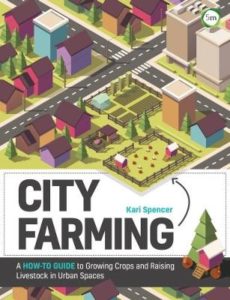 CITY FARMING:  A HOW-TO GUIDE TO GROWING CROPS AND RAISING LIVESTOCK IN SMALL SPACES has arrived.
Be among the first to get your copy!
[inbound_button font_size="20″ color="#b82601″ text_color="#ffffff" icon="" url="https://www.amazon.com/gp/product/1910455903/ref=as_li_tl?ie=UTF8&tag=themicfarpro-20&camp=1789&creative=9325&linkCode=as2&creativeASIN=1910455903&linkId=4e4d681e266aa2d4e2bc618ab64af59e" width="" target="_self"]Get City Farming [/inbound_button]
Farming in cities and small spaces is becoming increasingly popular, but it has its challenges. City Farming addresses the problems the urban farmer might face and turns them into creative solutions. It assists the new grower to gain expert understanding of how to create a production urban farm, as well as helping established farmers to discover new ways to bring their space into greater harmony and production. Also covered are integrated approaches that bring together the whole farming system in a small space to produce high yields with minimal energy and effort. The content is organised by themes of importance to urban farmers: sun and heat; water usage; seasonal production; spatial planning; soil quality and usage; propagation and breeding; pests and diseases; farming under time constraints; sustainability; and community initiatives. Each chapter unfolds a piece the story of The Micro Farm Project. The challenges that crop and livestock production present is discussed, and practical solutions to the problems-such as lack of space, high population density, poor soil quality, planning restrictions, etc-are given. Also included are case studies that give examples of different methods used within urban farming from different regions throughout the world.