Gardening Below Grade in Sunken Gardens
Sunken gardens are a wonderful option for growing in hot, dry climates.  I recently got to see some wonderful and simple sunken gardens growing in Phoenix.
My good friend Heather or Taylor Turned Earth lives in a nifty neighborhood in the Arcadia district of Phoenix. Many of the homes are being renovated to look like farm houses.  The yards have flood irrigation, a watering method that is unique to the area and that is a remnant of our agricultural days.  Sunken gardens take advantage of this flood water, and plantings flourish in the neighborhood, many of them located in front yards.  Heather and I are working on a project together, and she wanted me to see her neighbor Craig's sunken gardens.
Berms & Swales Create a Drought Tolerant Garden
During the visit, I had the opportunity to briefly meet the gardener, Craig, who pointed out a few highlights from his sunken garden.  First, and perhaps most importantly, the garden is dug below grade and planted in swales to retain and infiltrate water into the soil.  Berms create a waffle pattern in the soil so that he can direct more water to plants that are thirsty, and less water to drought tolerant plants.
How Sunken Beds Affect Garden Temperature
The low grade of the gardens provides a slightly cooler environment for the plants, reducing both heat stress and evaporation.  Additionally, Craig creates dense plantings.  Plants growing close together cover the soil, shading it and further decreasing water evaporation.  Finally, Craig cultivates tall plants on the west side of his garden to provide afternoon shade to lower-growing vegetables.
Is Flood Irrigation Safe for Vegetable Gardening?
Although flood irrigation is available, Craig does not use it for watering plants due to the possibility that canal water may bring contaminants into his sunken garden.  He prefers to have more control of what enters his property and comes in contact with his vegetables.  Neither does he use a drip irrigation system.  Instead, he simply fills the sunken garden beds periodically using a garden hose, allowing the beds to fill with water that seeps down deep into the soil.   Craig's garden design and management practices significantly reduce the number of times that he has to provide supplemental water to his garden, an extremely important feature in the drylands of Arizona.
Learn more about sunken gardens:
Save Wat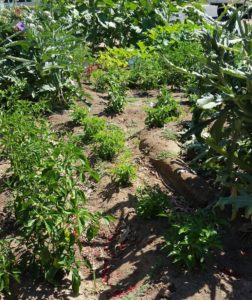 er the Old Fashioned Way by Jodi Torpey of Learn 2 Grow
What is a Sunken Garden Bed?  Tips for Creating Sunken Gardens by Nikki Tilley of Gardening Know-How