Interview with Susan of Terra Rosa Fertile Farms (TERFF -Cottonwood, AZ) July 10, 2015.  Susan discusses her farm plan, from permaculture design and product selection to business planning and marketing.
Sue, you have a wonderful piece of property.  What is currently happening at TERFF and how you are creating your farm plan?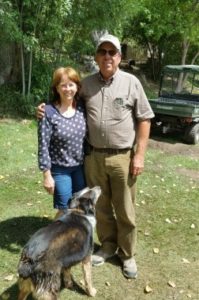 Currently I'm taking a business class through South West Institute of Healing Arts, Urban Farming online program.   It's called Seed to Sale.  The idea that they give us is to go online and actually put together a farm plan, actually a business plan using  the AgPlan.com website,  which is one way you can start building  your mission statements, what you want the name to be, what are the products that you have available, and what your firm can actually produce.
Actually, I started off just wanting to grow some food for us and maybe some friends.  I had no interest in really selling anything.  I was interested in creating an agriculturally and environmentally friendly environment on our little urban farm, developing rainwater harvesting, graywater usage, and looking at the farm from those angles. But, I ended up actually putting together a little business idea and even came up with a name for our farm and business; Terra Rosa Fertile Farms.  The name in short is TERFF… , which actually fits in really well with some of the products that I want to be able to offer here. My tagline is… "Promoting balance with Permaculture Principles, plant friendly products and services".
Sue, you're doing some interesting market research to find out what your customers want and need. How are you doing your market research and how will it fit into your farm plan?
I'm advertising "We may have products and services that you are looking for. Please feel free to give us a call and if we don't have what you are looking for me may know someone who does."  When they see the advertisement and call, that helps me to learn what is marketable out there and what people are looking for. I get new ideas and bridge networking with other businesses and farmers.
What product are you really excited about bringing to market?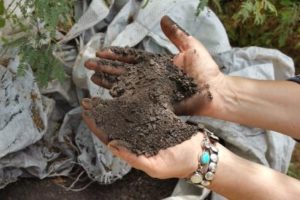 It's not something I'm growing here on the farm, but a resource that became available to me through a friend who is a part owner in a Humate mine in New Mexico.  A year ago, we bought 2500 pounds of Humate, which comes in really big bags.   It's a unique soil amendment, and this particular source of humate started eons ago as plant matter that decomposes and petrifies into humic acid. The Humate mine takes the material from the ground and actually pulverizes it. It's not quite granular, but it's ground into small pieces that are workable so that you can add it to your soil.
What does humate do in a garden?
What I'm learning about humic acid is that it's a great neutralizer. If you have clay soil that is difficult to work with, it not only will allow water to flow through it better, but it will also help to amend the soil and provides nutrients to the soil. On the other hand, if you have soil that was extremely sandy, it would also helps to retain water and provide nutrients to the sandy soil.
It's amazing that it can go from one soil extreme to the other, and still be beneficial as an amend  to bring nutrients.  We've used it on our yard and in the garden. I have dense clay –based soil in a raspberry patch where I did not want to anything too drastic to that soil. But I wanted to begin to amend  the clay based soils ability to provide what the raspberries needed.  I started to think about organic soil amendments that we might be able to purchase. I used gypsum with a little improvement.
How did you discover humate?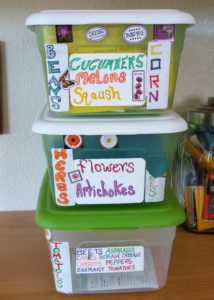 Then a friend of ours, who has ownership in the humate mine, mentioned to me over a year ago the benefits of humate and also  that if I was interested in humate,  I might want to sell it.   And so with using it in my garden and on my lawn and  seeing much improvement in growth and yield, I began to take a look at the profit margin, what I could purchase it for and how difficult it was to find the local garden shops.
Also, I figured in the shipping cost that people were paying, since it is not locally available in Arizona.  This began to look like it would be something that I could at least start with, and from there I could look at offering worms or additional compost products to add to my business .   We have an endless source materials on our farm, composting materials,so there could be other soil amendments that I could offer.
Tell me  a little bit about your farm plan, what you have going on here and some of the permaculture features.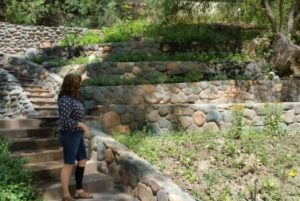 Our 9 acre farm originally had a well house, septic, and utilities with undeveloped property. About 22 years ago, my husband bought the property, and built an addition to the well house so he could have a little retreat home. Periodically for fun, he would go in town and buy fruit trees which were planted randomly here or there. Several years ago, when I met my husband, we started maintaining the property, doing all the things that that you think you are the right things to do until you learn that you're actually hurting your environment, such as killing native grasses and plants, as well as using poisonous chemicals.
What makes your farm plan different from typical farms?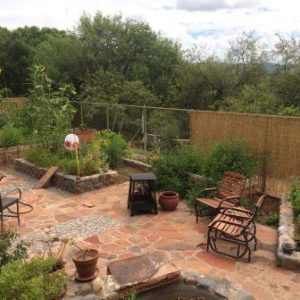 A few years ago we started looking at different approach on how we were treating the property; I wanted to be able to actually grow organically, embrace the native plants that were here and enjoy the natural water sources. Through the Southwest Institute of Healing Arts Urban Farming program that I've been taking online (with Kari Spencer as one of my instructors,) I've learned about companion planting, how to save rainwater. (Note:  The Urban Farming course is for SWIHA students only. Kari teaches a public online course at Growing Food:  The Basics.)
We are looking at the possibilities of reusing graywater before it leaves the property. Also, the value of leaving some areas undisturbed, recognizing that the birds, insects and animals that are in our area are actually beneficial to a permaculture environment. So behind our home on an adjacent property that we do not own, there is an artesian spring that you can see  above ground. This is an example of an area we would not want to disturb.
We have other water resources in our property, with a high embankment above us. Our initial reaction was that when it rained, as quickly as we could, get all the water to leave the property because it of flooding.  Now we look at how we can actually slow the water down and use it before it leaves the property. We will use barrels to collect our rainwater from the roofs of the many structures on the property.  We are putting a 1500 gallon water tank by our garden and utilizing two nearby roof lines to fill and use rainwater for the garden.
What do you grow on the farm, what is in your future farm plan and what are you working on now?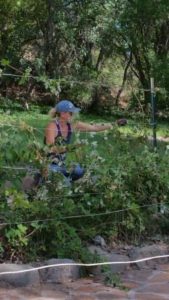 Raspberries are growing in the area near our neighbor's natural spring.  In the garden a wide variety of herbs and vegetables are growing. Tomatoes, potatoes, parsnips, carrots, lettuce varieties, spinach, native corn, squash, strawberries along with grapes, apricots, prunes and peaches. We have native Willows on our property, and we found some kind of a berry, almost like a Gooseberry, that's native on the property.
We have wild tobacco that grows on the property and I'm bringing in some friendly weeds.  I guess you call them weeds only because we don't traditionally think of them growing in the garden, things like lambs quarters, which is Pigweed.  I would like more chamomile, some valerian root, and some different things that would be complementary to each other. We have trellises near the house full of lavender, spearmint, and peppermint. This gives a great aroma near the house and is handy for salads and teas.
How long will it take to put your farm plan into action?
Before we consider more construction, we now have a different way that we're looking at the property and are doing some long term planning.  I think that's the biggest thing that I learned in the classes that I've been taking, all of that upfront planning that really needs to be considered before you just start digging in and wiping out natural areas. That's where we're at today, understanding that the key to having a great, productive and ecologically friendly farm is to do that plan upfront.