Pests, Diseases and Problems arise in Every Garden
Trouble is bound to come up in the garden.  It arises in the form of pests, diseases, weeds, nutrient deficiencies and management issues.  Correctly identifying problems is the first step towards successfully resolving them.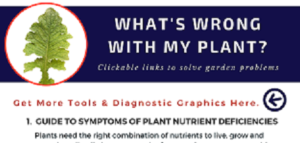 Download a list of free tools to solve garden problems.  Get the clickable PDF What's Wrong with My Plant HERE.
Note:  This link takes you to a form that will redirect you to Kari Spencer's author site.  There you will find Kari's blog and more free garden & urban farm resources.
Here is where to turn for help with pests and other garden problems:
Once the problem is (reasonably) identified, the second challenge is deciding how, or if, it will be treated.
For help, read Kari's article Diagnosing & Solving Garden Problems [To Treat, Or Not to Treat?  That Is the Question.]  This brief article describes how to have a healthy garden that has fewer problems with pests and diseases.  It also gives tips for deciding how to treat garden problems using various kinds of natural and gentle controls.